MESSAGE FROM MANAGEMENT
Welcome to our CSR page,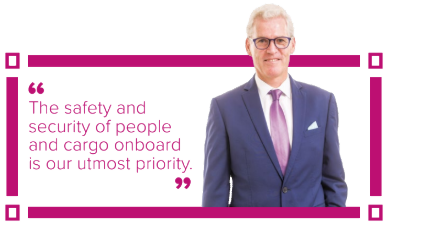 Since the launch of Ocean Network Express (ONE) in 2018, we have worked to build a foundation for success: operate in a responsible and sustainable manner while exceeding customers' expectations through better service and more shipping routes.
Our CSR page outlines our position, commitments and future plans on environmental and social issues that are critical to address in our industry.
We first joined Global Compact Network Singapore, the local chapter of the United Nations Global Compact (UNGC) network in 2018. As a member, we want to demonstrate our commitment to the UNGC Ten Principles and our intention to manage our operations while helping advance the situation on human rights, labour standards, corruption and the protection of the environment.
The safety and security of people and cargo onboard is our utmost priority.
As ONE continues to unlock new routes across more than 100 countries, the safety and security of people and cargo onboard is our utmost priority. In addition to developing and implementing strict standards and procedures, we actively work with our partners to ensure their ships and people are fully equipped and capable of meeting our customers' needs and commitments to safety and security.
To manage our environmental impact, and help our customers manage the effects of climate change, ONE has developed an environmental management system which is ISO14001 certified in 2018. We will also leverage on the expertise and technology of our three parent companies to identify innovative ways to further reduce our emissions.
ONE's objective is to deliver enhanced service and innovation in a responsible and sustainable manner.
This is great opportunity to better understand the environmental, social and governance issues that can have a material impact on our company, which will allow us to better manage risks and capture growth opportunities contributing towards ONE's business success over the long term.
We intend to regularly communicate our sustainability progress, successes and challenges openly and transparently to develop closer relationships with our stakeholders. We welcome your feedback and ideas on our sustainability efforts.
Best Regards,
Jeremy Nixon, Chief Executive Officer